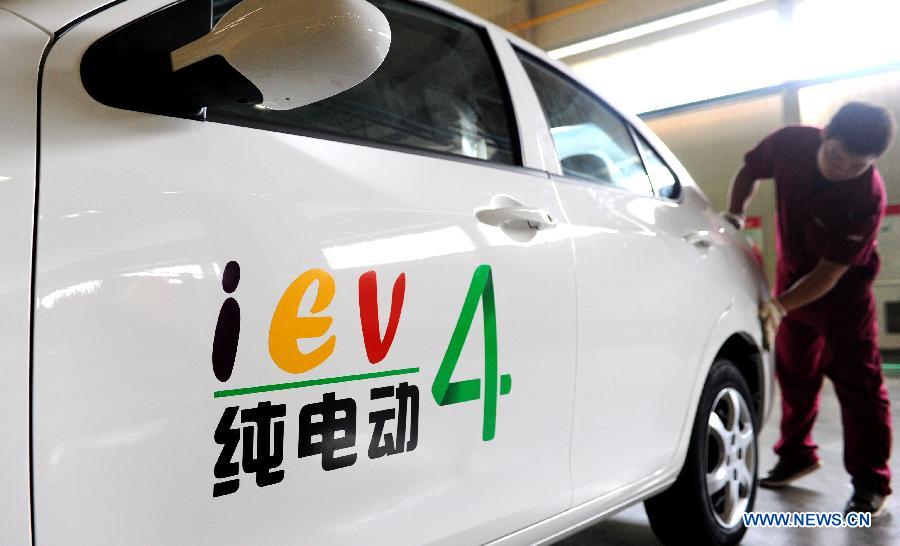 A worker checks a pure electric car at a workshop in Jianghuai Automobile Co., Ltd. in Hefei, capital of east China's Anhui province, Aug 19, 2014. China will exempt new energy cars from a 10-percent purchase tax from Sept 1 to the end of 2017. (Xinhua/Liu Junxi).



The two principal types of two-wheeled vehicles in China: two-wheel bicycles propelled by human pedaling supplemented by electrical power from a storage battery (bicycle-style), and low-speed scooters propelled almost solely by electricity (scooter style). The technology of both types is similar. China's two-wheeled electric vehicle industry started under the planned economy of the Maoist 1960s. However, early efforts to develop and commercialize electric these vehicles failed. A group of entrepreneurs gathered during the 1980s to revive the fledging industry but their ambitions were thwarted by poor technology and limited government support.
By the 1990s, China witnessed the world's most spectacular growth in two-wheeled electric vehicles and annual sales of bicycles and scooters grew from fifty six thousand in 1998 to over twenty one million in 2008.[1] In 2008 only, Chinese bought 21 million electric-bikes, compared with 9.4 million autos.
This growth of electric-bicycles in China was less technology-driven and more policy-driven, facilitated by favorable local regulatory practices in the form of gasoline powered motorcycle bans and loose enforcement of electric bicycle standards. The alleged justifications for these bans included relieving traffic congestion, improving safety and reducing air pollution. Many Chinese cities started to ban or restrict motorcycles and scooters using a variety of measures: some cities suspended the issuance of new motorcycle licenses, others banned the entrance of motorcycles and scooters into certain downtown regions or major roads, and some capped the number of licenses and then auctioned the license plates that were available. These bans were imposed on all motorcycles, regardless of their power sources, and since electric-bikes are categorized as non-motor vehicles they were exempt from the bans. According to the motorcycle committee of the Society of Automotive Engineers of China, the use of motorcycles is now banned or restricted in over ninety major Chinese cities.