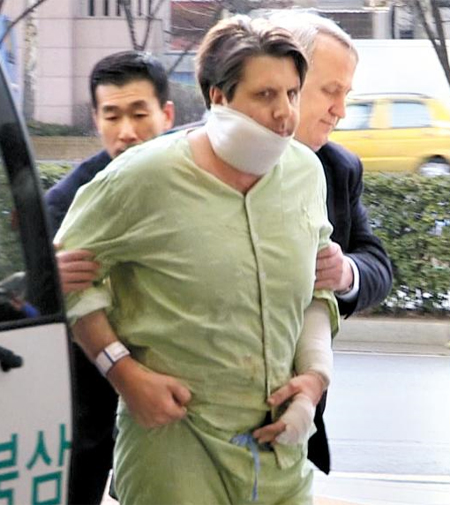 On Thursday, March 5, 2015, in Seoul, U.S. Ambassador to the Republic of Korea Mark Lippert underwent surgery to treat wounds to his face and hand following an assault earlier that day. He is currently recovering in the hospital. As the Ambassador tweeted Thursday afternoon from Seoul, he is doing well and in great spirits.


Ambassador Lippert tweeted: "Doing well&in great spirits! Robyn, Sejun, Grigsby & I – deeply moved by the support! Will be back ASAP to advance US-ROK alliance! 같이 갑시다!" The Korean words in the end mean "let's go together".



The suspect is in custody and U.S. law enforcement is coordinating closely with the Korean National Police who have the lead on the investigation into the assault. We cannot speculate on a motive at this time.
The U.S.-ROK alliance is strong; we will not be deterred by senseless acts of violence. President Park and Foreign Minister Yun both called Ambassador Lippert to express their condolences and wish him a speedy recovery. Ambassador Lippert looks forward to getting back to work with his Republic of Korean counterparts to strengthen our bilateral relationship and to jointly address regional and global challenges.


Remarks at Swearing in Ceremony by Ambassador Lippert
Treaty Room, U.S. Department of State, Washington, D.C.
October 24, 2014
Secretary Kerry, thank you for kind and generous words. I am honored by the trust that you and President Obama have placed in me, and inspired by your collective leadership on critical challenges around the world.
Distinguished guests, friends, and colleagues, thank you for coming today. I am grateful to all of you for your support.
I would especially like to acknowledge Deputy Secretary Burns – here on his last day at the State Department – who was instrumental in encouraging me to pursue this opportunity.
I also need to pause here and remind people the event they are actually attending today – this is the opening Act for the Bill Burns retirement ceremony…it's the hottest ticket in town….
All kidding aside, I also want to thank Secretary Hagel, Denis McDonough, Pete Rouse, and former Deputy Secretary Armitage for helping me along the way.
Senator Pat Leahy, my former boss, worked with dogged determination along with Secretary Kerry to get my nomination through the Senate. I am indebted to him for his efforts on my behalf, grateful for his decades of leadership on foreign affairs, and I am proud to call him a friend and mentor.
I'd also like to acknowledge Ambassador Ahn and Major General Shin from the Korean Embassy. I've gotten to know both of them well in many different roles – first in Seoul, then in the U.S. And, I now look forward to continuing our close collaboration in my new capacity.
Ladies and gentlemen, the partnership between the United States and the Republic of Korea is one of the most important relationships that we have in the world. I've been privileged to work on many of the key bilateral issues at the White House, Defense Department and on Capitol Hill over the past several years.
On the U.S. side, I've also been fortunate to work with some of the extraordinary men and women who have made this bilateral relationship so very special, including Ambassadors Sung Kim, Kathy Stephens; Generals J.D. Thurmond and Skip Sharp; Assistant Secretaries Kurt Campbell and Danny Russel; Senior Directors Jeff Bader and Evan Medeiros; Under Secretary Wendy Sherman; and Deputy Secretary Ash Carter.
As Ambassador, I will follow their lead and work tirelessly every day to make our partnership even stronger, across all aspects of this comprehensive relationship.
I will work closely with the leadership of the Republic of Korea to ensure we remain fully aligned in our efforts to achieve the complete, verifiable and irreversible denuclearization of North Korea and prevent proliferation of key technologies. And I will partner with a true leader General Scaparrotti, the Commander of U.S. Forces Korea –an old friend from my days in the Pentagon – as well as the leadership of the Korean Armed Forces to strengthen our alliance on the Peninsula.
I will work to ensure that the U.S.-Korea Free Trade Agreement is fully implemented so that American and Korean consumers, businesses, and workers receive all the benefits for which this Administration and the Korean government negotiated so hard.
I will also work to ensure that our alliance continues to tackle global challenges – from counter-terrorism and counter-piracy to climate change and development.
And I will strive to bolster our countries' strong people-to-people ties, which reinforce our shared values and interests, while proudly representing the more than 1.7 million U.S. citizens of Korean descent.
I've always known that our two countries are true partners, but I was reminded of its strength was a few weeks ago.
I was speaking with a man named Kim NamSoo. Born in Korea, he came to the United States to work as construction engineer in the western states and through twists and turns now works for the State Department training American diplomats here in Washington.
As I found myself riding in his giant, burnt orange Chevy Avalanche with Utah plates discussing everything from the American west to quality of life as a State Department employee to DC traffic, this seemingly routine, light moment reinforced just how deep, personal, and truly special this relationship is between our nations.
It also underscored to me just how intertwined our collective destinies are – and will continue to be.
I want to close by saying a special thank you to those most responsible for making today happen – my family. My father, Jim Lippert, my mother Susan, sister Amy and her fiancée Craig, my niece Maggie and my mother-in-law Mary Schmidek are all here. My sisters Susan and Anne Lippert couldn't make it, and neither could another important family member – our basset hound Grigsby.
But he will be a key part of our embassy team in Seoul.
Saving the best for last, there's my wife Robyn. No one is sacrificing more than her to take on this assignment. She is leaving a tremendous job here in DC as the Vice President of UnitedHealth Group, and is traveling halfway around the world and will telecommute from Seoul.
Robyn has been the best partner that anyone can ask for and I can't wait to get to Korea with her and Grigsby and start our next adventure.
Thank you all once again for being here.
Thank you for your support.
Thank you for your friendship.
Keywords:
South Korea,
U.S.-Korea Free Tra